Rainshower - Showerfilter
Rainshower - Showerfilter
Product Description
CQ-1000 Rainshower Shower filter

The High-Performance Shower-filter with extra long filter life!
NSF-certified long-lasting shower filter without a shower head. Converts chlorine into harmless soluble chloride, crystaline quartz for energy enhanced shower "feel". Your skin will feel the difference! Uses patented KDF media to prevent bacteria growth and to increase life of the filter.
CQ-1000 Rainshower Shower Filter features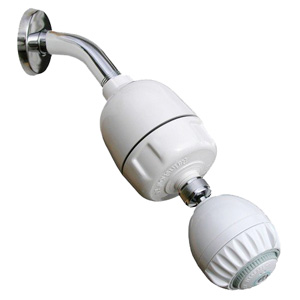 Installation with existing shower head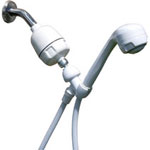 Installation above hand held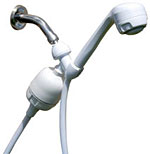 Installation below hand held
Converts Chlorine into a harmless soluble chloride

Crystalline quartz for energy enhanced shower "feel" and better lathering

Uses bacteriostatic KDF media, so there is no bacteria growth in shower head.
CQ1000NH Dechlorinating Shower Filter helps...
Healthier, younger looking skin

Softer, more manageable hair

Reduces fading of color treated-hair

Relief from dry skin and scalp

Improved lathering and sudsing

Removes 90% or more of free chlorine

Great for those with Chlorine sensitivity
Installation:Rainshower Bath and Shower Filter CQ1000 installs in seconds, use existing shower head: Unscrew the existing shower rose, then screw Rainshower filter on wall outlet of shower rose; then screw shower rose into socket of shower filter. Done!
Filter capacity: 12-24 months, depending on usage. Approx 60-70,000 liters
Filter body can last several years, 3 years or more
Brand: Rainshow'r
Model: Rainshow'r

CQ-1000NH
Product Reviews
Happy with my new shower filter!

Posted by Martine Bouillir on 14th Feb 2017

The shower filter was super easy to install with options for wall or hose end fitting onto the existing hand held hose-type shower head - just screw it into place! I felt and smelt immediately the difference in my shower water once it was installed. I've come from Golden Bay, the land of beautiful, pure, clean, unadulterated water so I have a high standard when it comes to both my drinking and shower water. While the promo material says a family of four will get 6 or 7 mths out of a filter, I've been assured that we as a family of two will get 1-2 yrs use depending on our showering habits. I consider a $99 filter a good investment every year and a half or so - I'll know when it needs changing because the smell of chlorine is so strong in Nelson. I highly recommend this product - it has given me peace of mind, softer hair and skin and is so much better for our health in general.